I've said before in an understated way, "She's a bit intense."
Intensely sweet. Intensely loving. Intensely insistent when things don't go her way.
Ladybug was "due" on the fourth of July. She decided she needed a bit more time to have Mama all to herself.
This year I took her to see fireworks for the first time. Her review? "I don't like those fire lights." She behaved well throughout the show, but she kept her ears covered. Her baby sister, however, loved every boom and flash!
Ladybug is my Rainbow Baby. She was born after a loss and after I had to teach my little ones that we have reason to praise God even for the babies we don't get to keep. Sometimes I find myself staring at her in amazement when I should be disciplining that sassy attitude. She is so cute, and so funny, and so smart. She is also my first talkative toddler since my oldest daughter. I could tell stories about conversations with her all day.
Recently, she described Sleeping Beauty as having Sleeping Duty and then as being a Tired Beauty. Ha!
Ladybug is my girlie girl. She wears a "pretty dress" almost daily and will come to me requesting I fix her hair, but she won't leave it up for long. When I protested her taking her ponytails down recently with, "But they're so pretty!" she finished pulling them out and replied, "I'm still pretty." Yes, My Dear, you absolutely are.
She doesn't want to be three. She told her Pappaw that she is five today. She told me after I told her she's three this morning that she wants to stay two. I said, "You can't wear your new birthday dress if you aren't three!" She thought for a moment and decided, "When I take it off I'll be two again."
Ladybug is a Daddy's Girl. She adores her daddy, and she tries to use him against me. "Daddy said I could do that." Ha! Little Lady, this isn't Mama's first trip around the sun.
I find myself watching her often these days. She understands things and acts in such a big girl way, but her sweet toddler face tells me she's still a baby too. She's my baby. Just don't tell her I said that.
Her imagination amazes me! I keep trying to make an exhaustive list of her imaginary friends.
The Bubbles – You know when you stare at a light bulb and see spots when you look away? Ladybug discovered this months ago and has been trying to catch and pop her Bubbles ever since.
The Dinosaurs – The Dinosaurs are often at the store, and we have to call them home or tell them to pick up a few things. Some of Ladybug's dinosaurs recently ate her Friends so she had to get new Friends.
The Bunnies – My oldest daughter asked the Ladybug if she likes carrots. "No. My Bunnies won't share."
Ladybugs – Of course. They are everywhere!
Babies – Ladybug is a Little Mama through and through. She likes to tell her older siblings, "You're grounded for the rest of the day!"
My Friends – She has lots of them running around.
She also talks to her fingers and toes and has many phone conversations with imaginary people.
I almost forgot the Princesses! – They're pretty new, but she loves them.
I asked what she would like to eat for her birthday breakfast. Her first suggestion was chicken nuggets so I steered the conversation toward a breakfast food. Over-easy eggs. Then I thought of eggs-in-a-bucket. It's been so long none of my kids remembered me making them before. The best part is the buttered bread browned in a frying pan. Ladybug gave her seal of approval.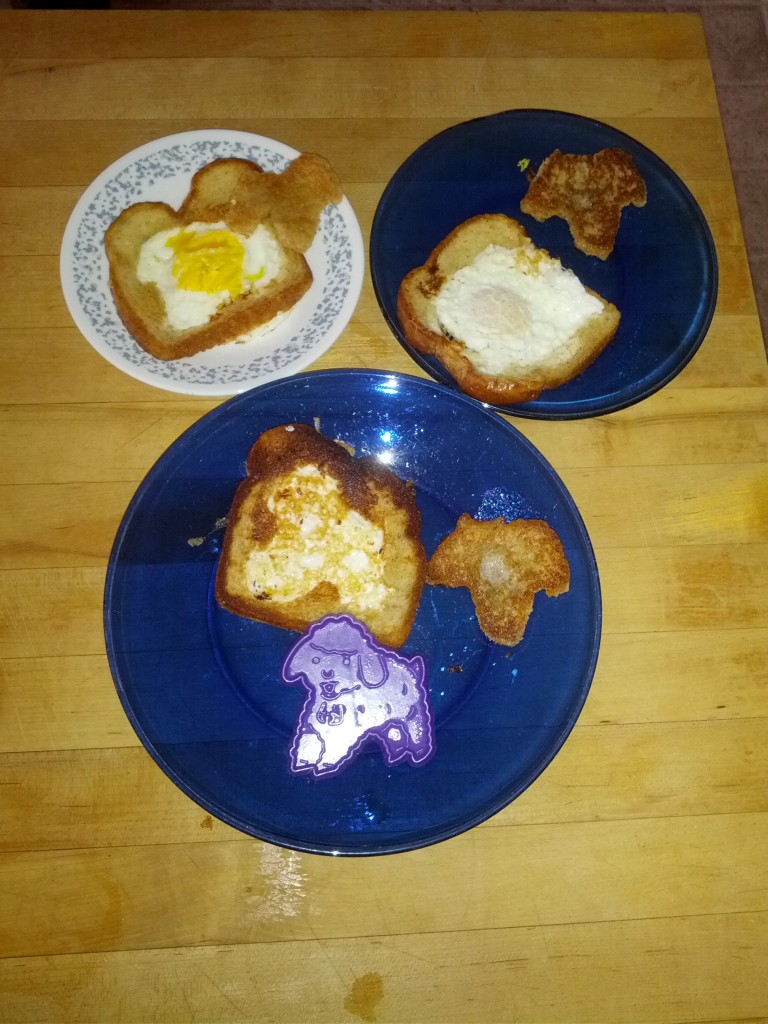 She's talking to her sidewalk chalk right now. They are discussing who should be next to who. I remember similar conflicts with my crayons. 🙂
Ladybug shows the heart of an artist with an attention to detail that can be a little maddening when plans change. She has willingly sat down to "do schoolwork" with the bigger kids from the time she could safely hold a pencil. She's at the stage of drawing people with a face and two long legs, and she includes eyes and a mouth. She can also draw hearts and some letters. Every word is spelled E-S-E including her name which does not have any of those letters in it. She hopes she'll need glasses when we get her eyes checked. She wants to wear eye patches too like one of her brothers, but she wants princess eye patches. She makes me laugh every single day. She has a sensitive heart that shares with others. She has been my big girl since birth, but she is still so little.
Happy Birthday, Ladybug.
[T]hrow off the bowlines. Sail away from the safe harbor. Catch the trade winds in your sails. Explore. Dream. Discover. ~Mark Twain